Summer Fiesta 2014 at Kidzee-Kakkanad &Infopark - Kochi
Wednesday, 19 March 2014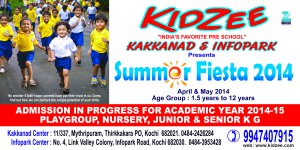 Contacts

Siba Shekhar

9947407915
Item description
KIDZEE Kakkanad and KIDZEE Infopark are pleased to announce that the Summer Camp under the title SUMMER FIESTA 2014 will commence on 07 April 2014.
The main features of the SUMMER FIESTA 2014:
1) Available for 7 weeks and 4 weeks
2) Duration: 09:30 a.m. to 12:30 p.m.
3) Program designed for 4 different Age Groups: 1.5 years to 3 years; 3 years to 5 years, 5 years to 8 years, 8 years to 12 years.
4) Kidzee children and non-Kidzee children can participate
5) Program designed to keep the child's mind, body and spirit active during the summer holidays. We will be engaging them in games, art/crafts, stories, music and lots of hands on free play. This is the perfect opportunity for the child with no preschool experience as well as for the child who will be continuing school and wants to keep learning through the summer holidays!
6) Active minds need plenty of fuel and the food program is designed with healthy snacks to cater meet the requirement.