Die Board Laser Cutting Expert Item Code: MY-L1180DB - Kochi
Thursday, 3 July 2014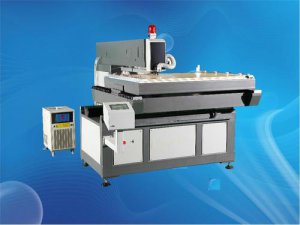 Contacts

RPM Tools Consulting

9952923400
Item description
Die Board Laser Cutting Expert
Item Code: MY-L1180DB
Application
Widely Used in Package and Printing Industry for different template making.
The Equipment can be used to cut die board for Carton Box , Label, Cartoon, Cards, etc.
Applicable materials include plywood, plastic, organic materials and other non metal materials.
Features
Fixed Laser beam path (laser head is fixed, the worktable moves
X, Y axis guiderail, from HIWIN/PMI, ballscrew from germany.
can cut max.22mm Die Board one time , the cutting speed is 50cm/min.The cutting gap is very vertical and even.One die board of box of 8-Makup patterns cutting only need 30 minutes.
Low Power consumption , single phase 220 Voltage, Power Consumption 3KW/hour.
2 Pieces of 150W laser tube and laser power supply from RECI which is the best manufacturer of laser tube made in china.
When you start the machine , you can use the machine at once, no waiting.
Easy focus and Operation, you can control the machine soon after simple training.
High rigidity, most of the machine frame adopts iron cast, the net weight is about 1000kg, the machine frame will not change within 36 months.
WLAN Remote control, you do not have to prepare one PC by the machine.
Technical Parameters
Working Area : 1100mm*800mm
Drive Style : X, Y axis Guiderail from Taiwan, Ball Screw from Germany
Applicable Material : Die Board, Acrylic, Plastic , Leathers and other non metallic material
Cooling Water Degrees : 5 degree celcious - 30 degree celcious
Protection gas : non oil air with drying
Relatively humidity : <80
Supply Power : 220-240V,50HZ / Single Phase / 10A
Cutting Sped : Max.3000mm / min / software setting
Cutting Precision : <0.05mm
Repeating Precision : <0.02mm
Operation Control : LCD display , english version operation menu, Dongle
Transmission Port : USB Interface and Offline Working
Instruction Systm : International Standard, Support CDR , CAD and other CAD software
Control System : DSP Controller
Packaging
International Standard Packing - Plywood Case - free of fumigation
Warranty
Whole machine has a warranty period of 12 months since delivery.