Certificate attestation - Kochi
Thursday, 1 February 2018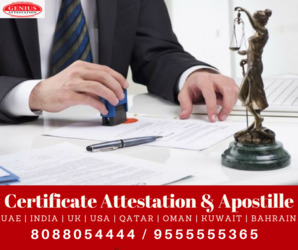 Contacts

Anu

9020031515
Item description
Certificate Attestation is a mandatory process while applying for a visa to move abroad. The Attestation process is to prove the certificates to be legal in foreign countries. The process of Attestation is applicable for the certificates like Educational certificates, Non-educational and Commercial certificates. Certificate Attestation is obligatory for the process like
• Employment Visa
• Visa Designation Change
• Medical
• MOH Examination/ DOH Examination
• MOE (Ministry of Education
• Equivalency and Higher Education
• School Admission and much more
The steps included in the process of Certificate Attestation is as follows
• First, the documents are authenticated by the HRD department of the respective state
• Attestation of the documents is carried out by the MEA(Ministry Of External Affairs
• The certificates are attested by the Ministry of Foreign Affairs in the state of that country where he/she plans to migrate
Once the entire process of Certificate Attestation is completed the certificates are proved to be authentic.