UK Placement Drive in Kochi - Gateway Institute - 9846542017 - Kochi
Wednesday, 24 July 2019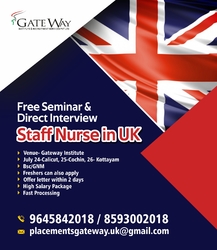 Contacts

Counselor

9567835041
Item description
Small batches so as to provide maximum attention to the candidates and also to provide the best ambiance for coaching.
30 days of coaching classes (Others can take these classes if they are interested without any additional fee)
Classes at convenient timings with our library and Computer Lab at your disposal till 05:30 pm.
The topics covered will be Medical & Surgical, Psychiatry, Pediatrics, OBG, ENT, Ophthalmology, Nursing Foundation, education, Management, Research & all other important topics.
On enrolling for the course, we present you with all the required study materials, reference books and also provide exam guidelines thereby preparing you to tackle the examination with confidence. Our computer lab will be at your disposal till 5:30 pm, thereby helping you familiarize with the online mode of Examination.
Our recruitment cell will be there to assist you in your hunt for the right job.