Champion bloodline bull terrier available at clawsnpawskennel - Kochi
Monday, 9 January 2012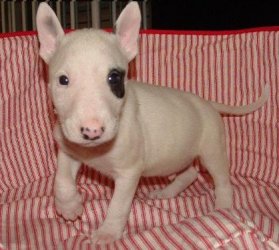 Contacts

Sangeeta Banerjee

9830064171
Item description
Breed name: BULL TERRIER
Colour: pure white, black, fawn, brindle (with marking and without marking
Paper: KCI Registered.
Age:2 mon
Available with vaccinated card and dewormed on 21days of the pup.
We Offer BULL TERRIER which come from champion bloodline and imported parents.We Have both male and female puppies available. The Bull Terrier's most recognizable feature is its head, described as 'egg shaped' when viewed from the front, almost flat at the top, with a Roman muzzle sloping evenly down to the end of the nose with no stop The unique triangle-shaped eyes are small, dark, and deep-set. The body is full and round, while the shoulders are robust and very muscular and the tail is carried horizontally. Bull terriers are known to be courageous, scrappy, fun-loving, active, clownish and fearless. They become very attached to their owners.We take care of delivery for all over India. No transportation charges. Please call us on 9830064171 or email us at clawsnpawsplanet@gmail.com. Visit us at www.clawsnpawskennel.com.