Woodpecker Holidays Munnar - Kochi
Friday, 18 January 2013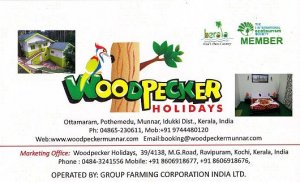 Contacts

Shankar R

8606918677
Item description
Dear Sir
We take the privilege of introducing our firm Woodpecker Holidays, Munnar a unit of Group Farming Corporation India Limited, which is a member of International Eco Tourism, U.S.A.
The Woodpecker HOLIDAYS in Munnar is located in the lush green hills in Pothamedu, 7 Km form Munnar, situated in the Shanthivanam, the highest peak in Kerala.
The villa type cottages built amidst the serene beauty of Munnar provide a blissful ambiance and in the vicinity of Tea Plantations, Cardamom Estates, and tall trees of more than 200 years of age. The way to resort presents the guest a heavenly environment and one can visit Headwork Dam, Pothamedu View Point en route to this resort.
In these Villa type Cottages we are providing facility of 1 Bedroom, Living Room, Mini Kitchen, Balcony, which is categorized as Executive Suite and facility of 1 Bedroom, Living Room, Mini Kitchen, Balcony with Carpet flooring and full furnishing which is categorized as Deluxe Suits, to our guests. We can provide 2 Extra Bed in a Suite Room.
Munnar to Woodpecker Holidays:
Take Right towards Munnar Headworks Dam and turn Right, from there 7 km drive to Woodpecker Holidays. This drive will be a new experience of breathtaking scenery. Drive through tea, coffee and cardamom plantations in the valley. On the way we come across Pothamedu View point, is one of the magnificent view points When the atmosphere is clear even the Idukki Arch Dam, which is 60 Km away from Munnar, can be seen.. The drive through tea, coffee and cardamom plantations takes us to skyscraping tree forest. Woodpecker Holidays is located in the centre of this skyscraping forest. Wood pecker Holidays is an ideal place for couples, business men, and families.