Laser Cutter 1290 - Kochi
Thursday, 3 July 2014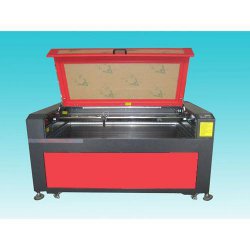 Contacts

RPM Tools Consulting

9952923400
Item description
Laser Cutter 1290
Item Code: MY-L1290
Application
WISELY 1290 is mainly used to cut many kinds of non-metal materials, such as Acrylic, Bamboo products, Cloth, Plastic, Marble, Glasses, Woods, PVC, etc. It can process the plexiglas products, acrylic display panel lenses, wood carving, wood percutaneous flowers, advertising products, crystal characters, packing boxes, models, toys, furniture and so on.
It is specially designed for smooth and high-speed cutting
Features:
1. High Accuracy--HIWIN/PMI Linear Guide Rail from Taiwan
2. Laser tube and power supply , long life, perfect cutting/engraving effect and strong power.
3. Four kinds of table: Motorized Up/Down Flatbed Table, Fixed Honeycomb Table, Fixed Flatbed Table & Fixed Knife Table.
4. Online & Offline Operation: To transmit data from PC to machine by USB cable or transmit by Flash Memory Disk.
5. High Rigidity--The thickness of the machine body is 1.5mm, the shape of machine will not change within 30 months.
6. USB 2.0 Interface, Steady and Quick Transmitting Speed, suitable for Desktop PC or Laptop.
7. Three kinds of software to output data: Lasercut, AutoCAD and CorelDraw.
Technical Parameter
TYPE : MY-L1290
Engraving Area : 1200mm*900mm
Laser Power : 100W / 135W / 170W
Max. Cutting Depth : Max. 20 / 25 / 30mm Acrylic
Laser Type : RECI Glass CO2 laser tube--the best made in China (Lifespan: Max. 10 000 hours
Transmitting Parts : Time Belt made by Zhejiang FuloCN--the best made in China
HIWIN Linear Guide Rail--the best made in Taiwan
Drive Type : LeadShine 3-ph Stepper Driver and Motor--the best made in China
Default Software / Controller : LaserCut5.3 / DSP Leetro 6535C Control Card
Max. Engraving Speed : 0-1000mm/s
Max. Cutting Speed : 0-600mm/s
Power Supply : 220V±10% 50HZ or 110V±10% 60HZ
Software Supported : ArtCut, CorelDraw, PhotoShop, AutoCAD
Computer Required : Memory: 512MB; Hardware: 40GB, OS: XP or VISTA, at least one USB port.
Package Size : 1730mm*1450mm*1400mm
Net Weight : 400 kg
Gross Weight : 470 kg
Gross Power : <1200W
Wisely Laser
1. We use the high-precision Linear Guide rail imported from HIWIN or PMI in Taiwan.
2. We use the best laser tube and laser power supply made in China.
3. We use the driver, which is the most popular manufacturer of driver in China.
4. Our machine adopts DSP Leetro 6535C control card (NOT 6515) and software LaserCut5.3 (NOT LaserCut 5.1
5. Our machine adopts 3-ph motors , NOT 2-ph motors, it can ensure the machine to work more steadily and smoothly.
6.The inside light: It is always nice to check on the progress of the project that is currently running. The laser machine has a viewing window through the main access door, and this interior light works great for providing enough light to see what is happening inside.
8.Castor Wheels : WISELY various models of laser engraving&cutting machines can weigh from 100 kg to more than 1200 kg. Every machine is equipped with castor wheels to make it easier to move it around the workshop or office.
9.The machine can work WITHOUT a computer, one flash memory disk can be enough for saving files.