Fabric Laser Cutter Item Code: MY-L1630F - Kochi
Thursday, 3 July 2014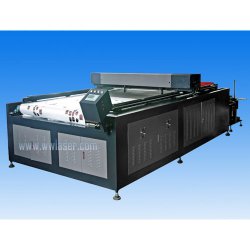 Contacts

RPM Tools Consulting

9952923400
Item description
Fabric Laser Cutter
Item Code: MY-L1630F
Applicable Industries:
Garments sampling, large width tailoring, leather industry, shoe making decoration, furniture, advertisement, packing and printing, molding and art craft industries, etc.
Applicable Materials:
Fabrics, leather, paper, bamboo ware, acrylic, glass, films and canvas, wood, porcelain, acrylic, cloth, etc.
1630 Fabric laser cutting machine is mainly designed to cut Fabrics, leather, Acrylic, etc.
Feature:
High Accuracy - HIWIN/PMI Linear Guide Rail from Taiwan
Automatic Feeding System and DSP Control System
Three kinds of softwares for your choose: Laser cut 5.3, Auto CAD and Corel Draw
USB 2.0 Interface, Steady and Quick Transmitting Speed, suitable for Desktop PC or Laptop
Two kinds of working tables for your choose: Fixed Aluminum Table (for hard material) & Fixed Honeycomb Table (for soft material
High Rigidity-The thickness of the machine body is 1.5mm, the shape of machine will not change within 30 months
Massive Memory Capacity: Standard allocation of 128Mb inner memory capacity which can save 64 processing files simultaneously
Adopt two laser tubes to raise efficiency
Totally enclosed laser route, powerful security
Faster cutting speed, smooth cutting and small joint, it can raise your working efficiency
Consistent Operation: Power off restoration, broken point continuation, working time anticipation
Technical Parameters
Type: MY-L1630F
Working Area:3000mm(L)*1600mm(W
Laser Power:100W
Max. Cutting Depth:20mm Acrylic
Laser Type:2 pcs of Sealed 100W CO2 Laser Tubes.
Slope Engraving:360°Slope Can Be Designed Easily
Max. Cutting Speed:0-200mm/s
Resetting Positioning Accuracy:?0.01mm
Life Hours of Laser Tube: Max. 10000 Hours
Maximum Forming Character: English letter: 1.0 x 1.0mm
Power Supply:220V±10% 50HZ or 110V±10% 60HZ
Software Supported: ArtCut, CorelDraw, PhotoShop, AutoCAD
Graphic Format Supported: PLT, DXF, BMP, JPG, GIF, PGN, TIF, etc.
Drive Type:3-ph Stepper Motors
CO2 Laser Tube:2 pcs
Wisely Laser
1. We use the high-precision Linear Guide rail imported from HIWIN or PMI in Taiwan, not in China mainland.
2. We use laser tube and laser power supply from RECI
3. We use the driver from which is the most popular manufacturer of driver in China.
4. Control Panel: User Friendly LCD control panel allows the user to quickly change selected program and modify machine operational conditions. You can Start, Stop, Pause, Reset, Datum, Test Fire, Outline engrave project area, Move the X or Y axis, LCD
Viewing Display.
5. We use the latest-version DSP controller and software LaserCut5.3 .
6. High-efficiency and multi functional water chiller
7. Reflecting Mirror (Right one, made by Mo/Si) and imported Lens (Left one, made by ZnSe
8. Software: You can find one set of software, one USB cable and one Dongle in the bag.
9. Exhaust Fan : There will be smoke when the machine is processing, the exhaust fan can be of help with the smoke.
10. Wheel for moving: Large machine is very heavy, but you can move it easily, because each machine has at least 4 wheels
11. Wheel for moving: Large machine is very heavy, but you can move it easily, because each machine has at least 4 wheels
Warranty
1. Every spare part (such as Laser Power, Drivers, Motors, Main board and so on) and Machine Body have warranty period of 12 months
2. LASER TUBE has warranty period of 6 months.
3. Honeycomb, Lens and Mirror have warranty period of 3 months.
4. Warranty should be valid once the shipment is effected.